4 Common Window Problems that Can Make Your Home Inhospitable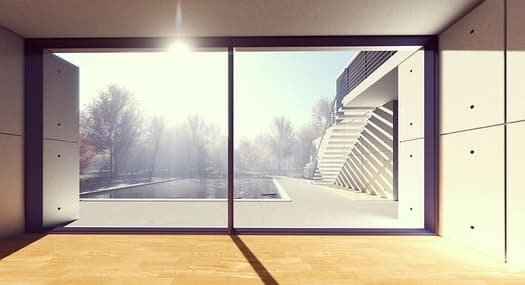 Also learn how to clean windows in your house to make house appealing. Scroll below to view lists of top rated windows cleaning products on highly reviewed by many owners on Amazon.

Across most of the country, many started the first week of December with record setting cold temperatures. Not only did the bitterly cold weather make in unbearable to be outside for very long, for many it also made them painfully aware of problems with their home's windows. What most of us might be surprised to learn is that home window troubles are much more common than we think. The problem is we rarely notice these issues until the windows are exposed to extreme weather conditions that make these window flaws obvious. Here are five of the most common window problems that may be making your home less comfortable then it should be.
Drafty Windows
One of the most common complaints of homeowners, drafty windows not only makes your home less comfortable, they can also significantly increase your heating and cooling costs. There are a number of things that can be causing your windows to be drafty. Some of the most common causes for drafty windows include broken window seals, windows with poor insulative properties, improperly installed windows or cracking or rotting window frames. While in some cases, a drafty window can be repaired by replacing the windows weather stripping or applying window caulk around the window frame, typically a drafty window is a clear sign that it is time to replace your windows.
Condensation
Condensation in between your window's glass panes can cause a window to become cloudy or foggy. In extreme cold weather, ice might even form in between the glass panes. Condensation between the glass panes in your windows is an indication that the seals between your window's glass panes has failed. Windows that are cloudy are not only difficult to see through, they are also much less energy efficient because they no longer contain the pressurized, insulating gas which is normally between the panes of glass. Although there are any number of do-it-yourself guides available that offer quick solutions for window condensation issues most do not address the loss of the window's insulative properties. Short of having the window removed and resealed at the window factor the best remedy is to replace the window with one that provides a warranty on the window's seals.
Cracking, Warping or Rotting Wood
Windows that are installed improperly or those with wooden frames that are not properly maintained often suffer from cracking, warping or rotting of the window frame or the areas around the window. Not only can this allow drafts around the window, it can also allow moisture to penetrate the spaces around the window. As a result, this trapped moisture can cause the framing to slowly rot away. It can also cause deadly mold to grow around your window and behind your walls. In addition, if you live in an area with temperature fluxuations of 30 degrees or more in a 24 hour period consider vinyl replacement windows over wooden window frames. These temperature fluxuations cause wooden window frames to expand and contract far more than most were designed to withstand and can cause the window frame to warp, crack or even the glass inside the window to crack. Quality vinyl replacement window can not only withstand these temperature fluxuations they also require significantly less maintenance than wood frame windows and won't rot unlike wood.
Faulty Windows
Nothing is more aggravating or more dangerous than a window that sticks, won't open or close easily, that won't stay open without something propping it open or that won't lock. In the winter, the weather in the Denver area can go from extreme cold one day to warm and comfortable the next. Many here like to open their windows on these warmer days to let in some fresh air. Windows that don't open or close easily or that won't stay open without something propping them open can make something as simple as letting in a little fresh air a chore. In some cases, a home owner might not be able to completely close a faulty window, which can let in cold drafts when the next cold snap arrives. Not only does a window that won't close properly drive up your heating and cooling bill, it is a serious security issue. Criminals regularly use unlocked windows to gain entrance to homes, making off with all your valuables. Replacing faulty windows with energy efficient and secure replacement windows will not only help lower your energy bill and keep your home safe, they can make those warmer Colorado winter days far more enjoyable.
Author Bio:
This is a guest post article by Jay Lillien the owner of 303Windows, a Denver Window company serving Denver Metro Area by installing Amerimax Vinyl Windows. As part of the commitment to their customers, 303-Windows installs only Amerimax Windows. It is the only window manufactures that warranties their windows against fading due to UV damage in Colorado.