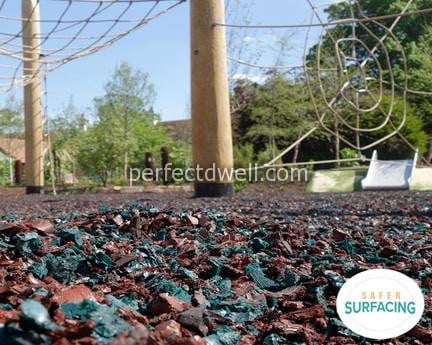 Channel 4 is airing the series Secret Life of the Zoo on Tuesdays at 8pm! In the series so far, the show has already taken an in-depth look at Malayan Tapirs, Hyacinth Macaws, Red Pandas, Giant Otters and Golden Mantella Frogs, to name but a few. The zoo is currently home to over 35,000 animals and keeping and caring for them is no easy task.
The series provides a great sneak-peek at the animals from behind the scenes, with plenty of interesting facts, laughter, and tears along the way. So, for a great day out for the whole family in Cheshire, be sure to check out Chester Zoo.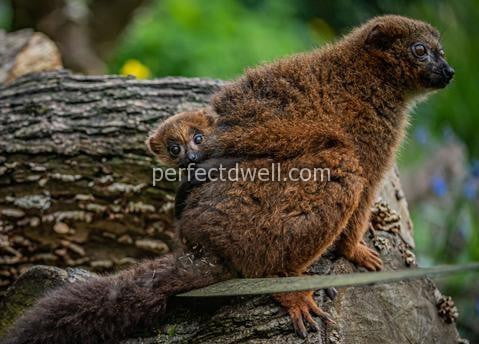 We at Safer Surfacing are lucky enough to be local to Chester Zoo here in Cheshire; even surfacing their Madagascar playground with our brown, terracotta, and green play rubber chippings! The play area is inspired by the conservation work that Chester Zoo is helping with over in Madagascar, allowing children to learn and discover through playing. As you can see from the image below, the mixture of different colours of rubber chippings creates a great effect for playgrounds, but can also be applied to other projects too!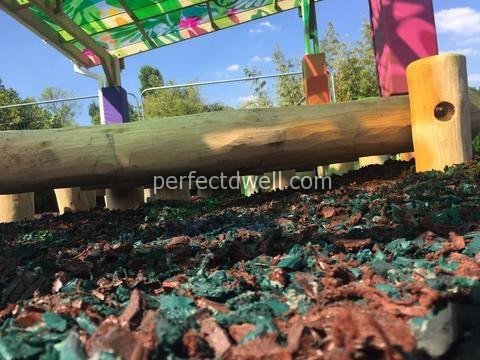 Rubber chippings are ideal for playgrounds such as these. With a safety rating adhering to BS EN: 1177:2008, rubber chippings can absorb the shock from falls much better than most materials that are currently available on the market. Additionally, Safer Surfacing rubber chippings are inert, non-toxic, and will naturally pass through if accidentally ingested by children or animals. Additionally, due to their size and weight, they will not blow away in the wind, making for even less clean-up over time, maintaining it's shape and form even during periods of bad weather!
Also, these chippings are made from 100% recycled tires, with each tire being cleaned, shredded, and it's wire removed prior to being given a polyurethane coating for it's colour, providing the chips with a long-lasting seal with minimal maintenance and replenishment required over long periods. And for residential or private use, once the play bark is no longer required, it can be reused as border mulch in gardens and planters!
If loose chipping or bark isn't quite what you had in mind, or you want a permanent surface for a playground, walkway, or patio, then you might think about resin-bound rubber crumb surfaces. By mixing small rubber crumb pieces with a polyurethane resin binder, a wetpour can be created and used to provide a flat, level surface in a variety (or mix!) of colours for your personal or business project. As it provides a permanent surface, the maintenance requirements of resin-bound wetpour are even lower than those of rubber chippings, meaning even less to worry about once it is put in place.
It's not just playgrounds that rubber chipping can be a great material for; it can be highly effective in a variety of projects and applications, such as:
Landscaping
Loose fill rubber chipping is a great material to use for a variety of landscaping and garden projects, such as border fills, filling planters to restrict weed growth, adding a splash of colour and variety to patio surfaces, or even for filling out the surface of a pathway. As the chippings are light, do not rot or decompose, and are non-toxic to animals and children, they are ideal for adding that extra splash of colour and detail to your garden or patio projects!
If you have a water feature in your garden area, whether it's a decorative running stream, a fish pond, or even a swimming pool, adding a surrounding layer of resin-bound rubber crumb wetpour to create a flat surface can not only look fantastic, but also provides a mess-free surface that will aid against slips and falls.
Equestrian
When it comes to equestrian sports, safety is incredibly important. The difference between falling onto concrete and falling onto a softer ground, for example can be huge. Having safe flooring while riding is greatly important for reducing injury severity to legs, feet and ankles, for example. A rubber chipping surface is great for minimising the risks of these injuries, while not compromising the riding surface.
Additionally, the surface is frost resistant to a temperature of around -5 degrees, allowing for a stable ground cover all year round. Due to the sturdy and resistant nature of the chippings, replenishment and maintenance requirements are minimal, as they do not rot, break down or blow away. As a permeable surface, the chippings also aid greatly in surface drainage, making the riding area that little bit less slippery.
Commercial Projects
Commercial projects have utilised chippings and rubber wetpour for many different projects and applications for a long time. Whether it's for decorative purpose to add a bit of colour and variety to the design and décor of a building or garden area, creating a pathway or walkway between buildings on a campus or for an entryway, or choosing a flooring design for an outside seating or lunch break area. For ease of installation, general upkeep and maintenance, as well as overall suitability, rubber chippings or resin wetpour is a fantastic choice for many different projects within the commercial sector.
Just as with garden features, utilising resin-bound crumb flooring is a great way to liven up decorative water features; fountains, ponds, or streams, to name just a couple. With a wide variety of colours available, and excellent durability all year round, finding the right design, pattern, or colour-mix is simple. Practicality shouldn't come at the cost of aesthetic, and rubber surfacing is a great way to provide both to your projects!
These are just a few examples of how rubber chippings can be used for projects; there are many other applications between! So, whether you are thinking of a mulch fill for a garden feature, or looking to revamp a larger project, keep Safer Surfacing in mind! To recreate Chester Zoo's fantastic play area in your own garden, check out our play rubber chipping!