I finally found a contractor willing to come out to install our Nest thermostat … even on a Wisconsin winter day


–Submitted by Oliver H.
Select electrical service near you using this form below
---
Read more on our customer's experience below…
WHAT MY perfectdwell CONTRACTOR DID FOR ME: Nest thermostat installation.
WHY I CHOSE HIM: Willingness to take on a small job.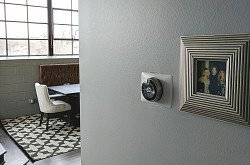 Personally, I'm kind of happy when things aren't broken – there's no point changing them or replacing them. Buying the Nest thermostat was really my girlfriend's idea; her biggest reason was that she thinks it'll save her money on heating and cooling. I guess it's one of those things that you see on TV. But until we understand how it works or it recognizes our patterns, I'm not sure how smart this thermostat really is.
Finding someone to install the thermostat was a little bit of a mission. I took a picture of the thermostat straight away after I bought it, which I emailed to Nest customer support to make sure it was compatible. Nest had a list of recommended contractors, but the first three I called didn't think the thermostat installation was worth their time, because it only takes about an hour and it's not a big money maker for them. And especially in wintertime in Wisconsin, HVAC contractors have got enough other things to do.
Finally when I got to the fourth on the list, Faithful Heating & Air, I found someone who was actually interested in installing it.
The installation went fine; they were fair and they came after work hours for me, which was nice.
I believe the thermostat is working as it should, but there's a learning curve and I've only had it installed since Thursday. I think it's just a matter of getting used to using something as advanced as this.
You can program it to anything you want. It's also possible to download an app so you can regulate your thermostat from your smartphone. I believe if you enable your device location, it will track when you're getting close to home as well, so you'll have a nice warm house waiting. There's a bunch of things on it that I'm not even aware of yet, but it seems pretty cool.
My advice when you want to hire an HVAC contractor: Definitely call more than one. It's always good to get a second opinion and also a different quote. It's always good to be a little bit open at first, to see what's out there, unless you've worked with a contractor previously and you've got a trust-based relationship with them.
---
How To Find An Electrician For Your Home
Ask for free quotes
Guarantees and Warranties
Make sure they are not subcontractors
Delivery timelines
Ask about qualifications and certifications
They have a solid reputation
Most homeowners are always so stressed about the cost that they often forget about the importance of timeframes while choosing their electrician. A low-quality electrician may require longer to provide the same service that an experienced electrician can finish in a matter of time. So, when you are looking for an electrician, make sure you will be provided quick and efficient service. They should also have the provision for 24/7 service in case you require urgent help with your electrical systems.
An experienced electrical service provider will complete your electrical work not only efficiently but also diligently. They respect your home and its privacy and come equipped with tools that cause little to no damage to your property as they conclude the task. They can perform repair and installation with absolute dexterity and in less time so that you can get back to your day's activities.
And ask the right kind of questions. Before he even got the estimate, my husband said, "This is what I want, and you need to tell me what you're going to charge." Then we had the electrician put it in writing and paid him and, as I said, we're very pleased with the work they did. Everything's working just fine.
Use the tips in this article to find the perfect residential electrician who will be happy to serve you!
---
Thermostat Electrician Electric customer experience FREE Estimates. Roofing Roof Drain Gutter Sewer Water Line Cleaning FREE ESTIMATES contractors Dry Wall construction Remodel. Always compare prices with at least 3 contractors before you commit to this important home project of your life.
Get any home projects Always Wanted in value price
Redoing home improvement with right construction Companies can increase your home value.
Connecting With professional Fence Companies
Using PerfectDWELL saves time and money, In just a few minutes local contractors will get in touch.
Additional Home Repair Services
With our Find a Contractor category finding additional contractors for additional services is fast and free.
Positive Feedback From Past Clients
Only contractors with positive feedback are allowed to stay in our network, Negative feedback gets a contractor removed.
Not Sure The Type of Unit Needed?
Don't stress it, Our local pros will give you free quotes on all types of unit sizes that best fit your home.
---
7 Best Selling thermostat
Last update on 2023-09-30 from Amazon Product Advertising API